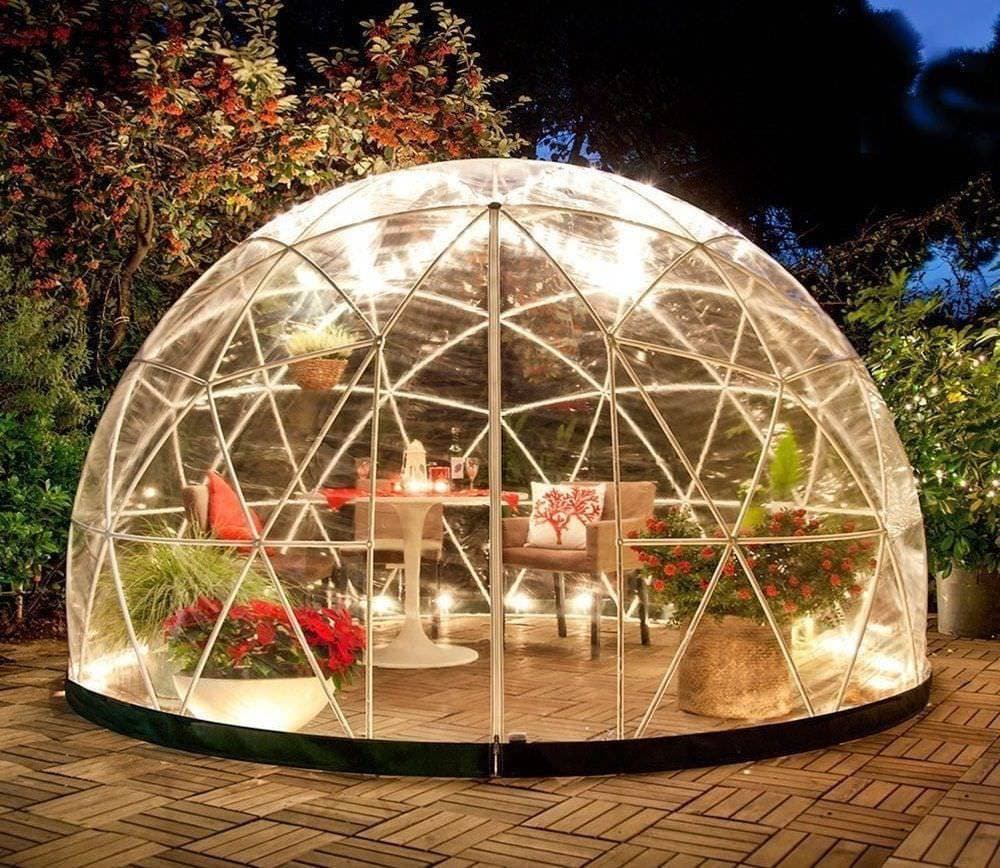 The unique Garden Tent a multi-purpose portable dome-shaped structure that can transform your outside area and can be used as a stylish conservatory, gazebo, greenhouse, play area or outdoor storage space. The Garden Tent are not only a fabulous addition to private gardens but are also used by pubs, hotels, restaurants and other commercial ventures to monetise outdoor areas. As seen on The Gadget Show, the Garden Tent Shelter is the perfect plastic dome for the garden and sure to be a talking point at your next BBQ.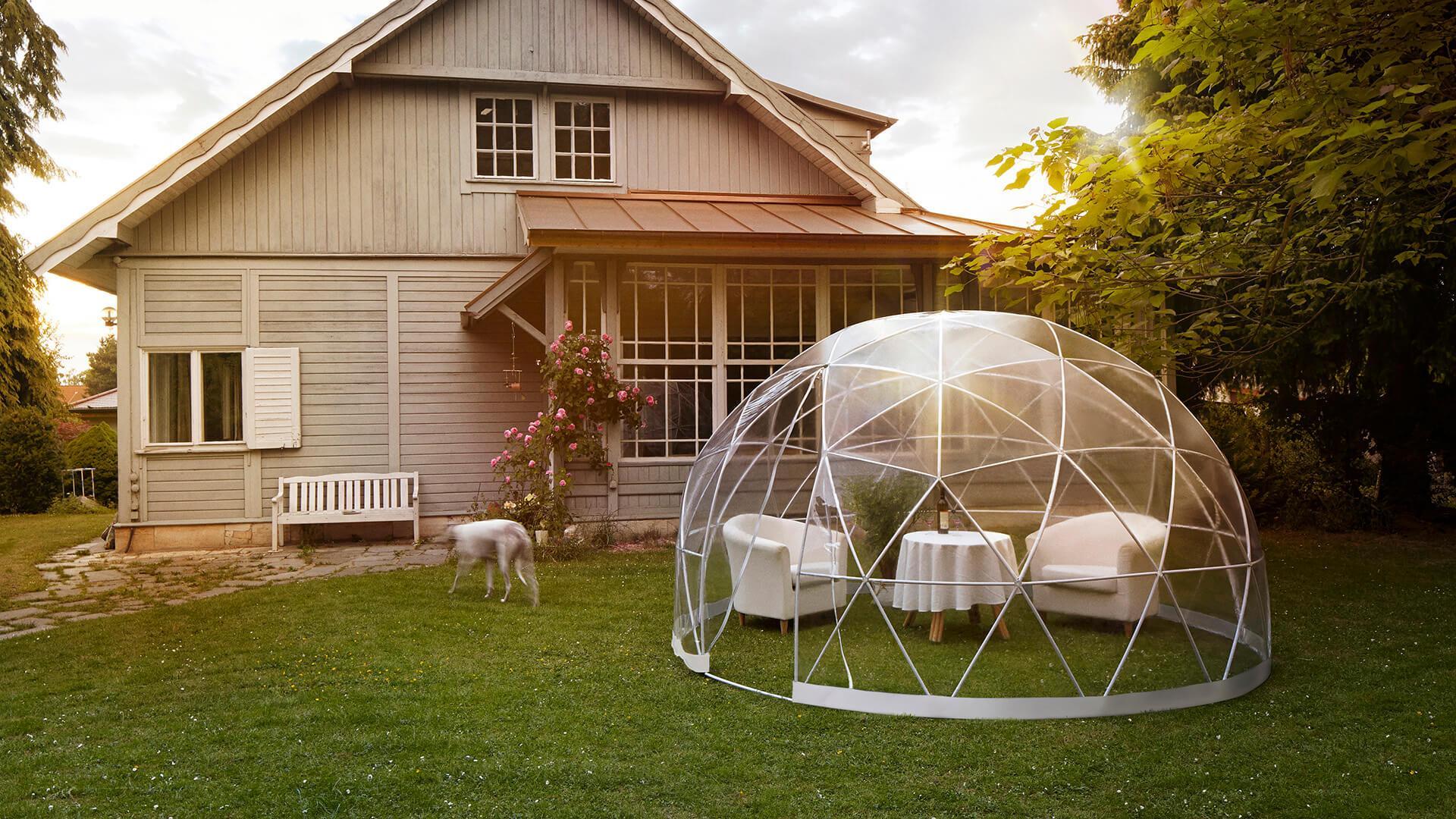 Perfect as an outside entertainment area, these Garden Tent are a quirky alternative to a costly conservatory. When assembled the Garden Tent offers a 360° window on the world. Aside from looking great and providing an amazing view from within, the dome gently retains heat on cool summer evenings making it a perfect retreat. If the British summer does reward us with a once a decade scorcher and the internal temperature proves a little warm during the heat of the day, simply open the windows and door for a cooling self-ventilating breeze. In the winter, the dome retains heat and is the ideal cosy retreat or protective quarters for your potted plants. An optional canopy provides shade for a spacious play area or elegant party and pool pavilion!
Features & Benefits:
Build the Garden Tent without tools with the easy connector system.
A simple and effective Pop-up Tent for outside social distancing in Hotels, Restaurants and Bars.
Rust and Rot Free, made with high-quality, non-corrosive recyclable materials
Wind resistant, water resistant and snow proof. (Please note that in adverse weather conditions such as high winds or storms, we recommend you remove the cover to prevent tearing as Cuckooland can not be held responsible for damage in these circumstances)
Unique plastic dome for the garden
100% recyclable
Portable and easy to move even when assembled
Stable and Resilient Frame made from White Polyvinyl
No Foundation Necessary - simply anchor it with the anchoring system provided
Cover: Transparent soft PVC
Window Vents: 2
Seats up to 8-10 people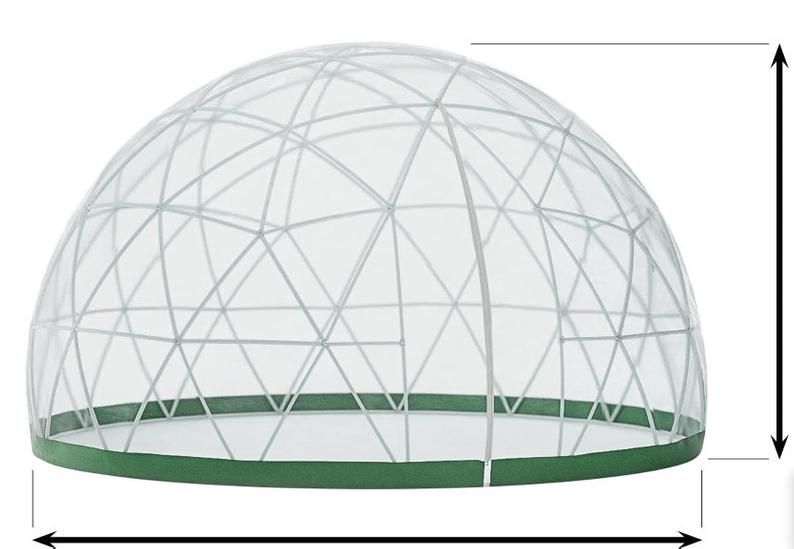 Specifications:
Diameter: 3.6m
Base area: 10m2
Entrance: h 180cm x w 70cm
Max height: 220cm
Can be stored away in packaging: 37cm x 75cm x 45cm
Wind resistant up to 50-62km/h (when properly fixed with the anchorage kit)
Maximum snow load capacity: 40kg
Good to know:
PLEASE NOTE: the base of the Garden Tent is white and not green (as shown in some images)
Includes: standard frame, PVC cover, anchorage kit (can be used on both soft turf or a solid patio) and assembly instructions. There is also a neat mini-sandbag system ring in the base which offers additional peace of mind if you want to keep your Garden Tent up year round or indeed if you'd rather not use the anchoring kit
Assembly: 2 man, approx 2 hours (but thoroughly worth it)
Please be aware that as this an external structure, condensation will occur, to minimise please make use of the vents frequently.